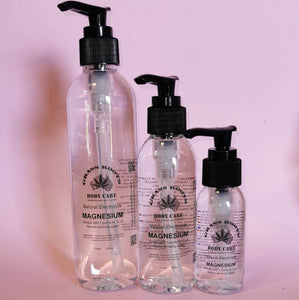 Magnesium for Drinking Water - Natural Electrolyte
Regular price
$25.00
$0.00
Unit price
per
Never use undiluted
Magnesium is a nutrient that is essential for healthy muscles, nerves, bones and blood sugar levels. If you don't get enough magnesium in your diet over a long time, you may develop health problems. Magnesium is important for many processes in the body. It is needed for muscles and nerves to work properly, to keep blood sugar and blood pressure at the right level, and to make protein, bone, and DNA.
The body uses magnesium to rest, recover from stress, re-hydrate cells, restore energy levels and strengthen bones. Magnesium and moisture provide more shock absorbing capacity for bones because magnesium has a strong affinity with water. Cells need it to be present in water in order to hydrate better. Magnesium is arguably the most important mineral electrolyte in the body for that reason. If magnesium levels drop too low bones cells start to leak out their calcium stores and this is the beginning of osteoporosis.
Magnesium helps electrical and nervous system conductance in the body, as well as keeping the fluidity of our blood circulation and lymph system normal. In a sense, magnesium and water help to keep us younger and 'juicier'!
In order to maintain our electrolyte fluids we also need the good oils (cholesterol fats) which stop our water from evaporating into the atmosphere. The cell membrane is made up of a lipid bi-layer, which has channels that open and close, letting wastes out and allowing nutrients in. The good fats help us to stay well lubricated, keeping the moisture where it is supposed to be. The skin barrier is a similar version of protective membrane.
As 99% of magnesium in the body is stored in muscle and bone, blood levels are not accurate indicators of total body magnesium levels. Muscle and bone cells can sacrifice their stored magnesium in order to keep blood levels normal. By the time we show up with low magnesium levels in blood, it indicates much more severe magnesium depletion in the rest of the body. As we age, magnesium levels drop lower and lower and it becomes very difficult to get enough magnesium via digestion alone. However, magnesium via skin can bypass the digestive system and allow the body to drink up what it needs for replenishment.
Other knows benefits of magnesium:
Promotes Sleep and Stress Reduction
Helps With Constipation
Exercise Performance and Recovery
Reduced Pain and Swelling.
Never use undiluted
Directions: Pump once into your drinking water. Each pump contains 2mL of magnesium, which equates to approximately 332mg elemental magnesium. The Recommended Dietary Allowance (RDA) for adult males is 400-420 mg daily and 310-320 mg for women. It's important not to have more than the recommended amount of magnesium, as it can cause diarrhoea, nausea or abdominal cramps. Extremely high levels can lead to an irregular heartbeat or cardiac arrest.
---
Share this Product
---