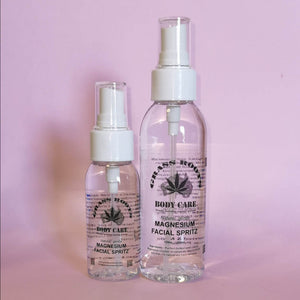 Magnesium Facial Spritz
Regular price
$10.00
$0.00
Unit price
per
Magnesium helps improve your skin's overall appearance, reducing acne and other skin disorders by lowering cortisol levels, stabilizing hormonal imbalances, and improving cellular processes. Magnesium also helps support the synthesis of collagen. Magnesium may reduce acne, calm sensitive skin and rosacea. All skin types can benefit from magnesium usage, those with oily, acne-prone skin will most likely benefit the most.

Directions: Simply spritz your face once per day. We recommend two to three pumps per use.  Please note - As with any salt, magnesium can irritate broken skin. Please patch test
prior to application to avoid discomfort. Avoid using with high doses of zinc and phosphates.

Ingredients: Purified distilled water (aqua), Magnesium Chloride Hexahydrate (MgCl2.6H20), less than 1% natural sea trace elements.
---
Share this Product
---